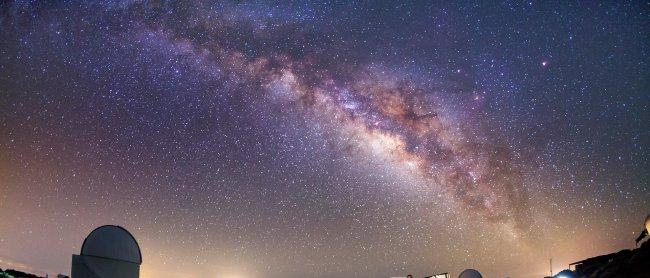 Astronomy is a science with surprising discoveries which gives us spectacular and beautiful images of the universe. The subjects it covers is very attractive but sometimes difficult to understand for the general public. For that reason it is necessary to stimulate public interest in this branch of science, and above all, to motivate from an early age. To do this, teachers play a fundamental role, and with this in mind the course "Exploring the Universe" was devised. It is organised by the Instituto National de Tecnologías Educativas y Formación del Profesorado (INTEF), the Universidad International Menéndez Pelayo (UIMP) and the Instituto de Astrofísica de Canarias (IAC) and designed so that astronomy can be included in the curriculum of Secondary Education in an attractive but rigorous way. The course will be held at the UIMP office in Santa Cruz de Tenerife from 10th to 14th July, and any secondary school teacher who wants to do so may fill in the inscription form at the link below.
As in the previous edition, the course will comprise two lectures per day by experts in all the major fields of astrophysics (the sun, the solar system and exoplnets, Stars, Galaxies, and Cosmology). There will be one panel discussion, visits to the Teide Observatory, IAC headquarters and the Museo de la Ciencia y el Cosmos, as well as an optional visit to the Roque de los Muchachos Observatory. There will be also workshops on astrophotography, day time and night time observations with professional and amateur telescopes, among other activities.
Apart from astrophysicists from the IAC and the University of La Laguna (ULL), researchers from the Astrobiology Centre (CAB-INTA, CSIC) and from the University of Vigo (UVIGO) will participate, as well as a professional astrophotographer will give a talk.
The course will have a duration of 50 hours, of which 30 will be contact hours plus 20 hours of web time. The final day to subscribe will be May 27th, at 12.00 noon.
The director of the course will be: Rafael Rebolo López, coirector of the IAC; codirector: Mar Jiménez López, Head of the Department of Training and Institutional Relations of the INTEF.
Registration webpage: http://www.mecd.gob.es/servicios-al-ciudadano-mecd/catalogo/educacion/profesorado/profesorado-no-universitario/cursos-y-jornadas/cursos-verano-profesorado.html
Course programme: http://www.mecd.gob.es/servicios-al-ciudadano-mecd/dms/mecd/servicios-al-ciudadano-mecd/catalogo/general/educacion/050330/ficha/050330-2017/EXPLORANDO-EL-UNIVERSO-V2.pdf