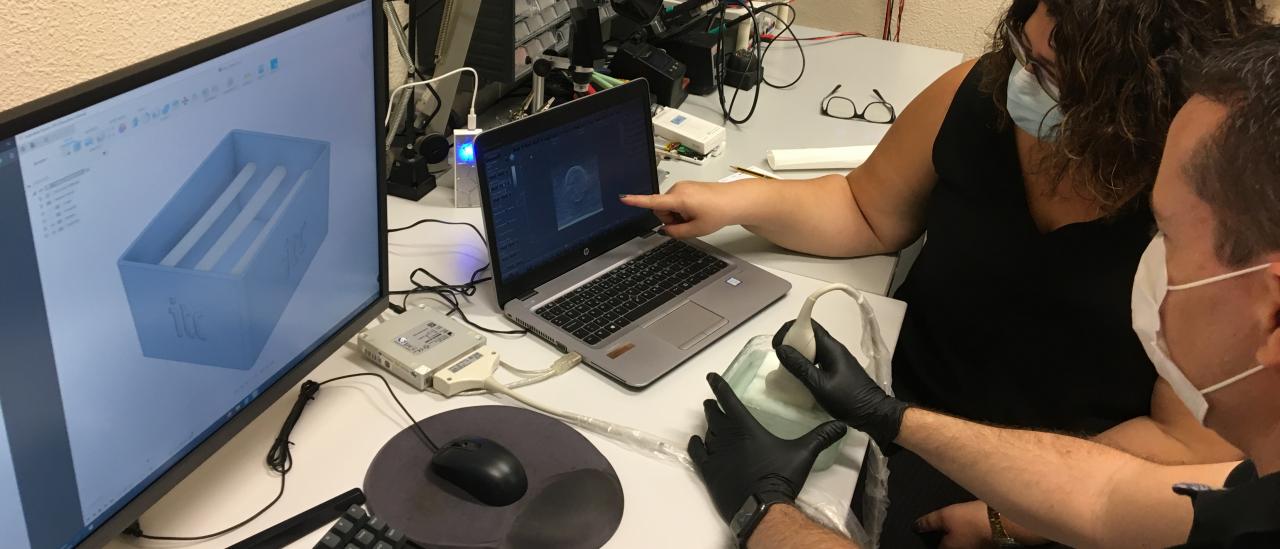 The programme of IACTEC-Medical Technology of the Instituto de Astrofísica de Canarias has developed a multifrequency microwave system called PROMISSE (PROtotype MIcrowave System for Subcutaneous anomalieEs) to characterize biological tissues at different depths. This project, whose origin is the aim of transferring astrophysical technology to the biomedical field, is part of the programme of Medical Technology within IACTEC, the area of technological and business collaboration of the Instituto de Astrofísica de Canarias (IAC), with the economic (Training Programme) and infrastructure (IACTEC building) support from the Cabildo Insular of Tenerife.
On the basis of this project IACTEC-Medical Technology has initiated MUTANT (Multimodal Tissue phANToms) a new line of research to develop components which mimic biological tissues in which a series of multimodal "phantoms" have been designed and made for medical applications associated with microwaves and ultrasound. These materials imitate the dielectric characteristics of biological tissues, as well as accoustic properties an echo production typical of ultrasound images. In addition, the prototypes have been calibrated for a wide range of use in medical applications.
This line of research has permitted close collaboration with other research groups and hospitals, such as the Department of Biomedical Engineering at the Canary Institute of Technology (ITC) and the Departments of Pneumology and Radiology at the University Hospital of the Canaries (HUC).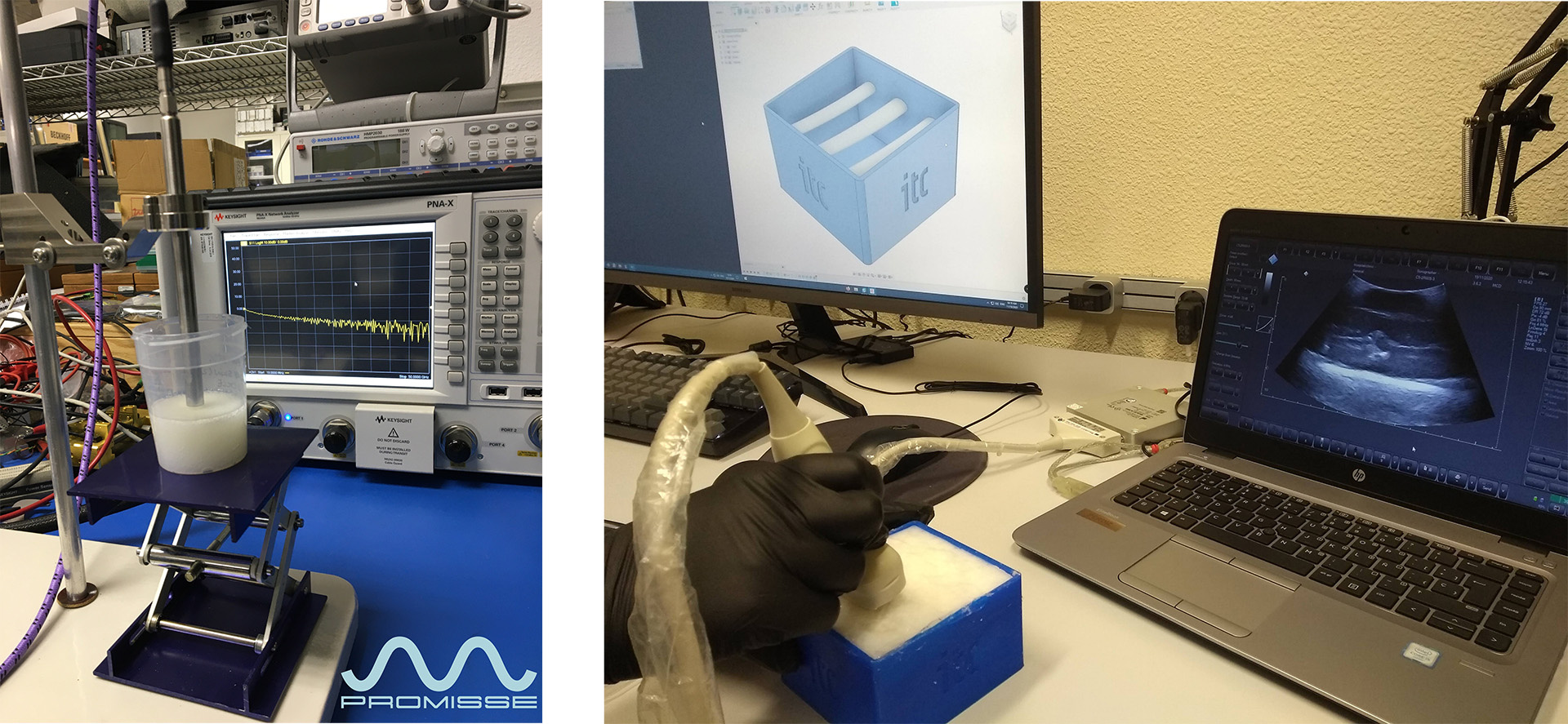 "Using microwave receivers developed for the PROMISSE system we can obtain measurements at a given point of the natural radiation from tissues in depth. To calibrate the system in depth and in temperature we need to use "phantoms". These allow us to make laboratory tests before moving to clinical trials. During the development of the phantoms we try to give them more than one function, to increment the ways in which they can be applied in the medical field", explains Enrique Villa, electronic engineer at IACTEC-Medical Technology.
"The phantoms are components made artificially and, in our case, they are based on a polymer polivinyl alcohol criogel (PCV-A) to which we add other common low cost materials such as sugar or celulose. The fabrication process is very versatile, and by varying the concentrations of the constituents of the phantom we can change its characteristics and simulate different soft body tissues, such as muscle or skin. It has a gelatious deformable structure, but with sufficient rigidity to allow us to superpose layers, in other words, we can fabricate single layer or multiple layer phantomes according to the application we need. Not only that but the use of preservatives lets us prolong its life for months or even years, with needing to apply treatments or special storage conditions", explains Natalia Arteaga Marrero, electromechanical engineer at IACTEC-Medical Technology.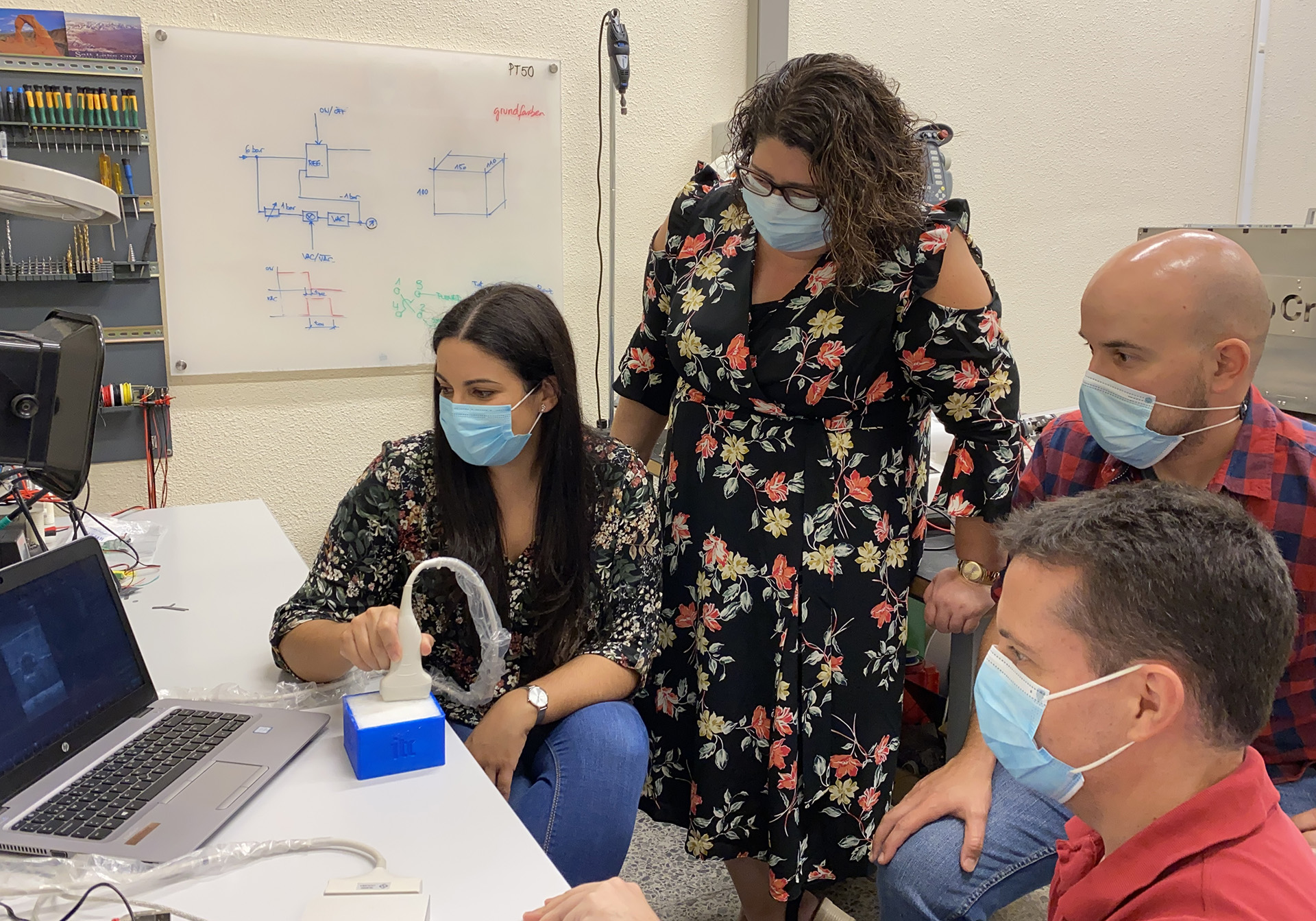 "There are multiple advantages to this material: it has mechanical, accoustical and electrical properties similar to those of body tissues, it is durable, and it can be manufactured in a wide variety of replicas of anatomical structures", says Javier González Fernández, engineer in the Department of Medical Engineering at the ITC.
These phantoms have direct application in the field of medicine and, at the present time, more complex phantoms are being developed which can simulate internal organs such as lungs, and their associated pathologies. "The availability of these low cost phantoms means that we have a very interesting tool for acquiring and improving our ability in the clinical use of ecographic images for diagnostic or therapeutic operations", confirms Ana Belén Llanos González, a pneumologa in the Department of Pneumology at the University Hospital of the Canaries.
These results have been obtained thanks to the support of the Cabildo Insular of Tenerife, under the Training Programme TFINNOVA 2016-2021, of he Strategic Framework for Island Development (MEDI) and the Development Fund of the Canaries.
More information:
www.nature.com/articles/s41598-020-77368-5
https://www.archbronconeumol.org/es-pdf-X0300289620005430 (Page 289)
https://erj.ersjournals.com/content/56/suppl_64/2782