Okazaki R. et al; Tatsumi E.
Bibliographical reference
Science Advance, 8, eabo7239
Description
The Hayabusa2 spacecraft returned to Earth from the asteroid 162173 Ryugu on 6 December 2020. One day after the recovery, the gas species retained in the sample container were extracted and measured on-site and stored in gas collection bottles. The container gas consists of helium and neon with an extraterrestrial 3He/4He and 20Ne/22Ne ratios, along with some contaminant terrestrial atmospheric gases. A mixture of solar and Earth's atmo-spheric gas is the best explanation for the container gas composition. Fragmentation of Ryugu grains within the sample container is discussed on the basis of the estimated amount of indigenous He and the size distribution of the recovered Ryugu grains. This is the first successful return of gas species from a near-Earth asteroid.
Related projects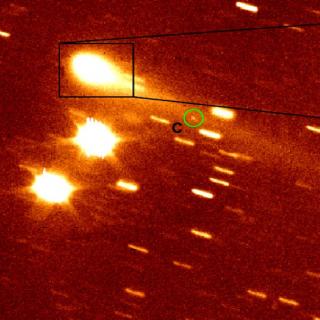 Minor Bodies of the Solar System
This project studies the physical and compositional properties of the so-called minor bodies of the Solar System, that includes asteroids, icy objects, and comets. Of special interest are the trans-neptunian objects (TNOs), including those considered the most distant objects detected so far (Extreme-TNOs or ETNOs); the comets and the comet-asteroid