Ito, Motoo; Tomioka, Naotaka; Uesugi, Masayuki; Yamaguchi, Akira; Shirai, Naoki; Ohigashi, Takuji; Liu, Ming-Chang; Greenwood, Richard C.; Kimura, Makoto; Imae, Naoya; Uesugi, Kentaro; Nakato, Aiko; Yogata, Kasumi; Yuzawa, Hayato; Kodama, Yu; Tsuchiyama, Akira; Yasutake, Masahiro; Findlay, Ross; Franchi, Ian A.; Malley, James A.; McCain, Kaitlyn A.; Matsuda, Nozomi; McKeegan, Kevin D.; Hirahara, Kaori; Takeuchi, Akihisa; Sekimoto, Shun; Sakurai, Ikuya; Okada, Ikuo; Karouji, Yuzuru; Arakawa, Masahiko; Fujii, Atsushi; Fujimoto, Masaki; Hayakawa, Masahiko; Hirata, Naoyuki; Hirata, Naru; Honda, Rie; Honda, Chikatoshi; Hosoda, Satoshi; Iijima, Yu-ichi; Ikeda, Hitoshi; Ishiguro, Masateru; Ishihara, Yoshiaki; Iwata, Takahiro; Kawahara, Kosuke; Kikuchi, Shota; Kitazato, Kohei; Matsumoto, Koji; Matsuoka, Moe; Michikami, Tatsuhiro; Mimasu, Yuya; Miura, Akira; Mori, Osamu; Morota, Tomokatsu; Nakazawa, Satoru; Namiki, Noriyuki; Noda, Hirotomo; Noguchi, Rina; Ogawa, Naoko; Ogawa, Kazunori; Okada, Tatsuaki; Okamoto, Chisato; Ono, Go; Ozaki, Masanobu; Saiki, Takanao; Sakatani, Naoya; Sawada, Hirotaka; Senshu, Hiroki; Shimaki, Yuri; Shirai, Kei; Sugita, Seiji; Takei, Yuto; Takeuchi, Hiroshi; Tanaka, Satoshi; Tatsumi, Eri; Terui, Fuyuto; Tsukizaki, Ryudo; Wada, Koji; Yamada, Manabu; Yamada, Tetsuya; Yamamoto, Yukio; Yano, Hajime; Yokota, Yasuhiro; Yoshihara, Keisuke; Yoshikawa, Makoto; Yoshikawa, Kent; Fukai, Ryota; Furuya, Shizuho; Hatakeda, Kentaro; Hayashi, Tasuku; Hitomi, Yuya; Kumagai, Kazuya; Miyazaki, Akiko; Nishimura, Masahiro; Soejima, Hiromichi; Iwamae, Ayako; Yamamoto, Daiki; Yoshitake, Miwa; Yada, Toru; Abe, Masanao; Usui, Tomohiro et al.
Bibliographical reference
Description
Volatile and organic-rich C-type asteroids may have been one of the main sources of Earth's water. Our best insight into their chemistry is currently provided by carbonaceous chondritic meteorites, but the meteorite record is biased: only the strongest types survive atmospheric entry and are then modified by interaction with the terrestrial environment. Here we present the results of a detailed bulk and microanalytical study of pristine Ryugu particles, brought to Earth by the Hayabusa2 spacecraft. Ryugu particles display a close compositional match with the chemically unfractionated, but aqueously altered, CI (Ivuna-type) chondrites, which are widely used as a proxy for the bulk Solar System composition. The sample shows an intricate spatial relationship between aliphatic-rich organics and phyllosilicates and indicates maximum temperatures of ~30 °C during aqueous alteration. We find that heavy hydrogen and nitrogen abundances are consistent with an outer Solar System origin. Ryugu particles are the most uncontaminated and unfractionated extraterrestrial materials studied so far, and provide the best available match to the bulk Solar System composition.
Related projects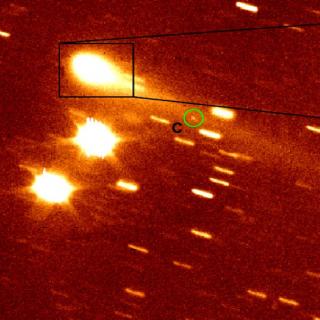 Minor Bodies of the Solar System
This project studies the physical and compositional properties of the so-called minor bodies of the Solar System, that includes asteroids, icy objects, and comets. Of special interest are the trans-neptunian objects (TNOs), including those considered the most distant objects detected so far (Extreme-TNOs or ETNOs); the comets and the comet-asteroid