Investigator
Domingo Aníbal
García Hernández
Amount granted to the IAC Consortium
131.890,00 €
Description
Low- to intermediate-mass (M < 8 solar masses, Ms) stars represent the majority of stars in the Cosmos. They finish their lives on the Asymptotic Giant Branch (AGB) - just before they form planetary nebulae (PNe) - where they experience complex nucleosynthetic and molecular processes. AGB stars also experience strong mass loss, efficiently enriching the interstellar medium (ISM) with gas and molecules/dust. Thus, AGB stars are important contributors to the enrichment of the ISM where new stars/planets are born (including our own Early Solar System, ESS), and to the chemical evolution of stellar systems like globular clusters (GCs) and galaxies. In particular, the more massive (M > 4-5 Ms) AGB stars synthesize very different (radio)isotopes (such as 87Rb, 26Al, 60Fe, 7Li, 14N) from those formed by lower mass AGB stars and Supernova detonations, as a consequence of different nucleosynthesis mechanisms. Evolved stars in the transition phase between AGB stars and PNe also form diverse organic compounds like polycyclic aromatic hydrocarbons, and fullerene and graphene molecular nanostructures, being a wonderful laboratory for Astrochemistry. On-going massive surveys like SDSS- IV/APOGEE-2 and upcoming space-based facilities such as the James Webb Space Telescope (JWST) represent a fundamental step forward to understand the nucleosynthesis and molecular processes in evolved stars.
We propose to explore the nucleosynthesis of light and heavy (radio)isotopes in AGB stars and how they contribute to the ESS radioactive inventory as well as to the formation and evolution of GCs and galaxies. Specifically, the large SDSS-IV/APOGEE-2 samples of Milky Way and extra-galactic AGB and GC stars will impose fundamental observational constraints to the actual AGB theoretical models and will significantly improve our present understanding of the chemical evolution of GCs.
We also aim at understanding the top-down formation process of fullerene and graphene molecular nanostructures in evolved stars, involving the photochemical processing of hydrogenated amorphous carbon nanoparticles and similar natural materials like kerogen and asphaltenes. By understanding this, we will unveil another three big questions in Astrochemistry: What is the role of these molecular nanostructures in circumstellar/interstellar Chemistry and Physics? What is the origin of the unidentified IR emission widely observed in the Universe? What other forms of C are present in space? The complex compounds to be explored here are similar to the organic matter found in proto-planetary disks and SS bodies and their study may have important implications for the ESS enrichment. We propose to go beyond the state-of-the-art to answer the open questions above by combining astronomical data, top-level organic chemistry lab experiments, and novel quantum-chemistry calculations. We will consolidate this new interdisciplinary research - crossing the boundaries between astronomers, chemists, and physicists - that will lead to new discoveries in this unexplored field, with potential applications in nanotechnology and industry.
Finally, we will finish a sub-project very recently started using the GALEX database to discover binary central stars in Galactic PNe; looking for double spectral energy distributions but also for variability. By analysing both the emission from the star and nebula, we will explore the stellar and nebular contributions to the GALEX and SDSS filters.
Related projects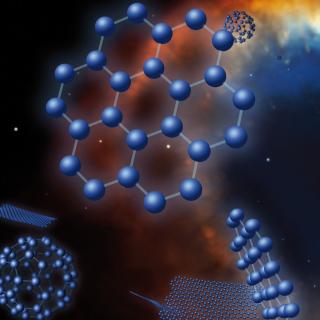 Nucleosynthesis and molecular processes in the late stages of Stellar Evolution
Low- to intermediate-mass (M < 8 solar masses, Ms) stars represent the majority of stars in the Cosmos. They finish their lives on the Asymptotic Giant Branch (AGB) - just before they form planetary nebulae (PNe) - where they experience complex nucleosynthetic and molecular processes. AGB stars are important contributors to the enrichment of the
Domingo Aníbal
García Hernández